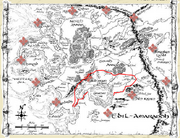 The
Suderain
(sould-er-rain) is a nation in Edil-Amarandh, it is one of the Seven Kingdoms a name used to refer to the nations that are not part of Annar or Den Raven. Its capital is the large city of Turbansk on the shores of the Lamarsan Sea, the city is home to the Ernani, the monarch of the Suderain, who lives in a large palace known as the Ernan at Turbansk's heart. The nation is the second largest country in all Edil-Amarandh.
The Suderain has a large amount of bards and Schools in the nation, four of the Suderain's five largest cities are home to Schools of barding. The Suderain has always been allies with the countries of Annar to its north and Amdridh to its west. Sometime after the Restoration, the bards of the Suderain tried to pacify Suderain's neighbor to the southeast, Den Raven, by putting Schools of barding in the Lost Kingdom but their attempts failed completely.
Ad blocker interference detected!
Wikia is a free-to-use site that makes money from advertising. We have a modified experience for viewers using ad blockers

Wikia is not accessible if you've made further modifications. Remove the custom ad blocker rule(s) and the page will load as expected.